Climbing Staff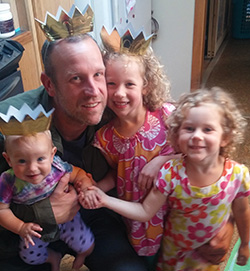 Adam Pessl General Manager
1. I've been working in the climbing gym industry for over 18 years
2. Took my first climbing class @ Vertical Club on Eliot Ave. in 1987. I was 12 years old. Began spending most weekends @ Index shortly there after. Graduated from Index to Yosemite. Climbed El Cap in 1995. Discovered bouldering shortly there after and realized it was much less work than climbing big walls. Spent many days bouldering in Leavenworth, and then discovered my desk in the office at Vertical World. The rest is history.
3. My favorite climbing area is Seneca Rocks West Virginia

K.J. Maxwell Manager
1.  My first name is Kent
2.  I was born in England
3.  My other nickname is Little Gorilla
4.  My favorite climbing area is Yosemite Valley
5.   I have been to 13 Grateful Dead shows
.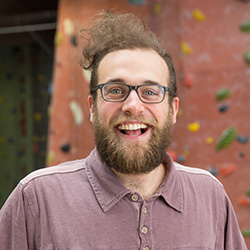 Evan Stickles Assistant Manager
1. I have two middle names. James and Lally.
2. If I were to be in a band, I would be in a ska band which would be called 'ups and downs, but mostly ups'.
3. When daydreaming at work, I usually travel off to the Boundary Waters Canoe Area Wilderness to do some sunny day cliff jumping with good friends.
4. To woo my friendship, a simple grilled cheese and a smile is usually a solid beginning.
5. Have a positive mental attitude to live a story worth telling for the greater good.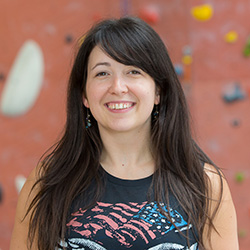 Mattie J. Wheeler Regional Director of Programs and Instruction

1. I first drove a car when I was 10 on the Bonneville salt flats speedway. My dad had me sit on a phonebook to be able to see over the wheel.
2. Foraging is the best! Berries, Morels, Chantrelles, and Asparagus are mostly what I seek but I'm always trying to learn more.
3. I enjoy simple pleasures like watching it rain when the sun shines through it and you can see every drop.
4. I dream of living on a lot of land and owning a cow.
5. I like trucks, Toyota Trucks.
.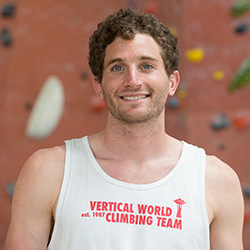 Alex Aizenman Facility Maintenance/Front Desk/Instructor/Route Setter

1. I choose to believe that I am descendant from the Maqabim, an ancient Jewish warrior tribe (this is very unlikely)
2. Rare is the occasion that I am in possession of the big three - phone, keys, wallet - at the same time
3. If you invite me over I will leave my phone, keys, or wallet at your house (this extends to my sunglasses and backpack)
4. If you climb with me there is a decent chance of epicing and I will probably play my flute while I belay you.
5. No one knows this but I am actually a fairly decent banjo player. But I don't like bluegrass so I haven't heard that song.
.

Jeff Narva Front Desk/Instructor

1. I prefer modes of transportation that involve 2 wheels and a motor.
2. I actively seek out Type II Fun.
3. I have a disappointing negative 2″ ape index.
4. Bob Gaines once told me I build excellent anchors.
5. I want ALL the ProDeals.
.

Kayla Frankum Front Desk / Instructor
1. I love rock climbing.
2. I used to be an electrical engineer and then I went on a long bike tour and now I work at a climbing gym.
3. My favorite book is Shantaram.
4. I do not keep a written agenda like Wes, but I have a rad pup like Wes.
5. I boogie to Biggie.
.

Lauren Rojas Youth Program Coordinator
1. I was born and raised on the coast of southern California.
2. I dabble in furniture making and am hoping to make a career of it in the near future.
3. I have over 30 dinosaurs in my room and am currently wondering at what age this obsession is inappropriate.
4. I have decided that the age of 24 is okay.
5. I make a mean zucchini walnut chocolate chip muffin, and my favorite animals are sharks.
.
 
Tim McCool Retail Coordinator/Front Desk
1. Born in Kansas, bred in North Carolina
2. I've memorized 800 digits of Pi
3. I maintain several Pinball High Scores around Seattle
4. I speak a small amount of Japanese and Mandarin
5. Avid cuddler of pets
.

Stephen Snell Head Instructor
1. I can do a kickflip
2. I have a black belt in aikido, just like Steven Segall.  My mom and brother also have black belts in aikido.
3. I can name every bone in your body.  Well, most bones.  All but a few.
4. I lived in France for a year, but I was only 1 year old, so I don't remember any of it.
5. My favorite cereal is a toss up between Raisin Bran and Wheat Chex.

Violet Navarrete Events & Outreach Coordinator
1. I have been to over 20 national parks.
2. I only have 9 toe nails.
3. I've helped document numerous archaeological sites that were previously undiscovered.
4. I've been to Machu Picchu.
5. I can't whistle. Despite years of desperate attempts.

Taryn McGovern Front Desk/Youth Program Instructor
1. I've been chased by an elephant
2. I was once a mattress in a ballet
3. I don't know how to shoot rubber bands
4. I can speak Danish
5. My favorite kind of lists are lists that are only four items long
.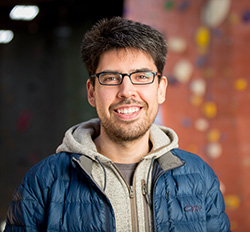 Brian Luft Belay Army Coordinator/Retail Coordinator
1. Aspires to have a flock of sheep
2. Favorite former professional wrestler is John "Bradshaw" Layfield
3. Moonlights as a pastry chef
4. Favorite explorer is Ernest Shackleton
5. One of the above is not true
.

Samantha Heim Events and Outreach Coordinator
1. I've traveled to 42 states and 10 countries.
2. I'm half Japanese
3.  I'm lactose intolerant but still eat Cheetos.
4. My spine is curved.
5. I hope to own goats someday.