Climbing Staff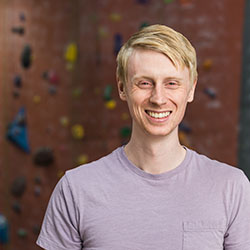 Bret Johnston Manager
1. I have two wiener dogs.
2. More than one VW member probably babysat me as a kid.
3. I am the youngest USAC National Chief Routesetter in the country.
4. I am a fantasy football nerd.
5. Vertical World is family.
Contact Bret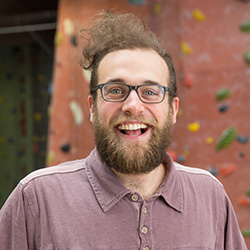 Evan Stickles Assistant Manager
1. I have two middle names. James and Lally.
2. If I were to be in a band, I would be in a ska band which would be called 'ups and downs, but mostly ups'.
3. When daydreaming at work, I usually travel off to the Boundary Waters Canoe Area Wilderness to do some sunny day cliff jumping with good friends.
4. To woo my friendship, a simple grilled cheese and a smile is usually a solid beginning.
5. Have a positive mental attitude to live a story worth telling for the greater good.
Contact Evan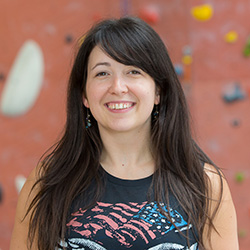 Mattie J. Wheeler Regional Director of Programs and Instruction

1. I first drove a car when I was 10 on the Bonneville salt flats speedway. My dad had me sit on a phonebook to be able to see over the wheel.
2. Foraging is the best! Berries, Morels, Chantrelles, and Asparagus are mostly what I seek but I'm always trying to learn more.
3. I enjoy simple pleasures like watching it rain when the sun shines through it and you can see every drop.
4. I dream of living on a lot of land and owning a cow.
5. I like trucks, Toyota Trucks.
Contact Mattie.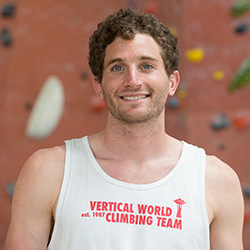 Alex Aizenman Seattle Head Setter/Facilities Coordinator

1. I choose to believe that I am descendant from the Maqabim, an ancient Jewish warrior tribe (this is very unlikely)
2. Rare is the occasion that I am in possession of the big three - phone, keys, wallet - at the same time
3. If you invite me over I will leave my phone, keys, or wallet at your house (this extends to my sunglasses and backpack)
4. If you climb with me there is a decent chance of epicing and I will probably play my flute while I belay you.
5. No one knows this but I am actually a fairly decent banjo player. But I don't like bluegrass so I haven't heard that song.
Contact Alex.


Jeff Narva Instructor

1. I prefer modes of transportation that involve 2 wheels and a motor.
2. I actively seek out Type II Fun.
3. I have a disappointing negative 2″ ape index.
4. Bob Gaines once told me I build excellent anchors.
5. I want ALL the ProDeals.

 
Tim McCool Front Desk
1. Born in Kansas, bred in North Carolina
2. I've memorized 800 digits of Pi
3. I maintain several Pinball High Scores around Seattle
4. I speak a small amount of Japanese and Mandarin
5. Avid cuddler of pets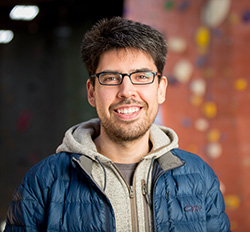 Brian Luft Front Desk

1. Aspires to have a flock of sheep.
2. Favorite former professional wrestler is John "Bradshaw" Layfield.
3. Moonlights as a pastry chef.
4. Favorite explorer is Ernest Shackleton.
5. One of the above is not true.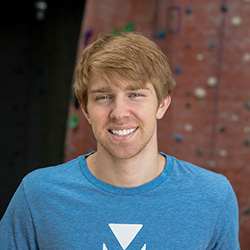 Billy Gierach Climbing Instructor/Front Desk
1. I almost walked on to the University of Colorado Boulder's basketball team until I discovered climbing.
2. My first ever climb outside was a free solo of the direct route on the first flatiron in Boulder, Colorado.
3. I have many pending publications with my findings in my honors thesis titled, "Synaptogyrin 3 Binds Amyloid Beta and May Alter Dopamine Transport in Alzheimer's Disease."
4. Cereal is my motivation to get up in the morning, not coffee…  Yes, I still like coffee.
5. I am named after the philosopher William James.


Tristan O'Mara Retail Coordinator
1. I know more names of wildflowers than I do people.
2. My favorite inanimate object is a train.
3. When I'm adventuring outside, I follow a strict pop tart only diet.
4. I can't whistle to save my life.
5. My most embarrassing climbing moment is when I tore my leggings at the top of Mt Shuksan and had to descend with my butt showing. Yes, there were other people around.
Contact Tristan


Kathryn Spisso 

1. I was born in the Upper Peninsula of Michigan, which technically makes me a "Yooper". Though, I claim my home state to be East Tennessee.
2. I'm a proud mom to the coolest tuxedo cat in the world, Lynus.
3. I can quote "Friends" like nobody's business.
4. I once walked from Tennessee up to Pennsylvania on the Appalachian Trail.
5. I once won a Hunger Games Charity Competition, in which I lasted 3 days and 3 nights slowly defeating all my competitors using my wit, intelligence, skill, and a ton of nerf weapons.
Contact Kathryn


PJ Daley  Groups Coordinator
1. I'm a hobbyist photographer.
2. I meow sometimes when surprised.
3. I've climbed in Argentina.
4. I wrote a book before college.
5. I love red wine.

Corey Kessler Front Desk
1. I'm originally from San Diego.
2. I'm currently working towards a degree in Exercise Science from Seattle Pacific University.
3. Bouldering is my one true passion.
4. A fatty beach rot is one of life's greatest pleasures.
5. One day I hope to own a performance sports clinic.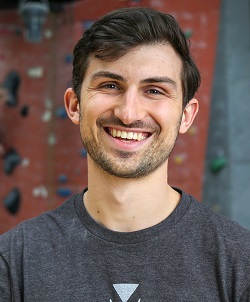 Nick Franko Head Instructor
1. I have a bifid uvula.
2. Each of my grandparents is from a different continent.
3. I've summited each of the 5 Washington Volcanoes.
4. I dressed up as Pajama Sam for Halloween 3 years in a row (as an adult).
5. My diet while climbing consists solely of Shot Bloks (Clif Bar Please sponsor me).
David Wilson Front Desk
1. I have lived in 4 countries.
2. I salsa and break dance.
3. I used to be a real estate broker.
4. I am currently getting my masters in social work.
5. My favorite foods are shawarma and tacos.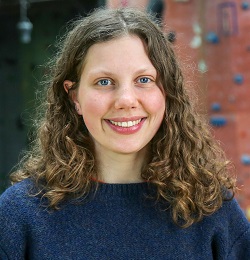 Renata Kalnin Youth Program Coordinator
1. I have all the jumping ability of the average corgi. This doesn't stop me from trying to dyno, and I'll stick one someday.
2. In college, I studied public health and worked the night shift as an EMT.
3. I've climbed 4 of the hundred highest peaks in Washington in one 24 hour period, from two trailheads.
4. Nearly all of my outdoor gear is lime green. It's not my favorite color, but it is a color that goes on sale a lot.
5. My preferred climbing/backpacking/ski touring fuel is Swedish fish.
Contact Renata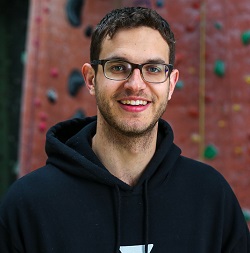 Andrew Featherston Events & Outreach Coordinator
1. I am an identical twin.
2. I once summited Mt Fuji in shorts.
3. If I had to eat one thing for the rest of my life it would be chips and salsa
4. In high school, my youth club ultimate team won a national championship.
5. Wayne Brady once asked me if I had a dog biscuit, I didn't

Brock Dion
My sourdough starter's name is Leaven Worth.
I've restored a conversion van and helped restore a sailboat.
As a kid, I once had a 2nd degree sunburn. I hate vinegar because of it.
Once, while surfing, one of my fins split the webbing on my left-hand.
Cream cheese gives me the hiccups.




Jory Griffith

I once ran into an electric fence because I was too excited about seeing alpacas (I love alpacas).
I went to university in Canada and now regularly say "eh".
I can hyperextend my elbows. Ask me to do it it's extremely disturbing.
The worst injury I've had was from falling on a treadmill.
My one wish is for my dog to love me. I try so hard but she remains aloof.

Anna Sulc