Climbing Staff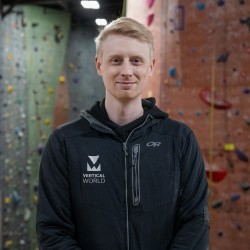 Bret Johnston Manager
1. I have two wiener dogs.
2. More than one VW member probably babysat me as a kid.
3. I am the youngest USAC National Chief Routesetter in the country.
4. I am a fantasy football nerd.
5. Vertical World is family.
Contact Bret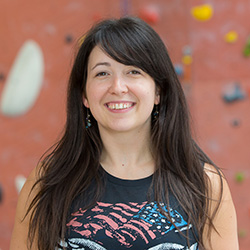 Mattie J. Wheeler Regional Director of Programs and Instruction

1. I first drove a car when I was 10 on the Bonneville salt flats speedway. My dad had me sit on a phonebook to be able to see over the wheel.
2. Foraging is the best! Berries, Morels, Chantrelles, and Asparagus are mostly what I seek but I'm always trying to learn more.
3. I enjoy simple pleasures like watching it rain when the sun shines through it and you can see every drop.
4. I dream of living on a lot of land and owning a cow.
5. I like trucks, Toyota Trucks.
Contact Mattie.


PJ Daley  Assistant Gym Manager/Groups Coordinator
1. I'm a hobbyist photographer.
2. I meow sometimes when surprised.
3. I've climbed in Argentina.
4. I wrote a book before college.
5. I love red wine.
Brock Dion Social Media Coordinator
1. My sourdough starter's name is Leaven Worth.
2. I've restored a conversion van and helped restore a sailboat.
3. As a kid, I once had a 2nd degree sunburn. I hate vinegar because of it.
4. Once, while surfing, one of my fins split the webbing on my left-hand.
5. Cream cheese gives me the hiccups.
Sam Heaney Front Desk
1. I am originally from England but I have lived in the U.S. since 2015
2. I have a retired racing greyhound named Frank.
3. Indian food is my favorite cuisine.
4. Traditional film photography is one of my hobbies.
5. I like owls.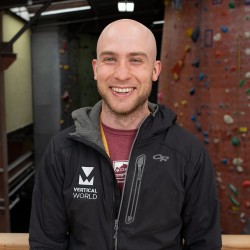 Andy Miller Head Instructor
1. I can blow bubbles off my tongue
2. You can find my dog and I at Discovery Park each day.
3. I have perfected the art of making calzones.
4. I am a certified tax professional.
5. Ask me for a music playlist.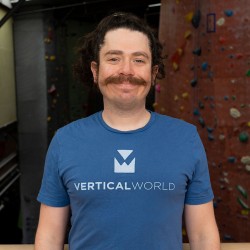 Ryan Casella Youth Program Coordinator
1. My first full-time job was working with the Merchant Marine to restore WWII Victory-class ships.
2. I used to do cancer research, but this is way more fun.
3. Reese's cups are my go-to, but the pieces are a travesty!
4. I thoroughly dislike climbing in long pants.
5. Climbing should be for all!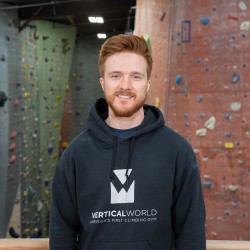 Wade Doty Front Desk
1. I can hum and whistle at the same time.
2. I'm an uncle to two nieces who are older than me.
3. I'm left handed and a ginger, I'm pretty much a unicorn.
4. My favorite tea flavor is winter melon, try it!
5. Once I accidentally skied off a 10 foot cliff, luckily it was a pow day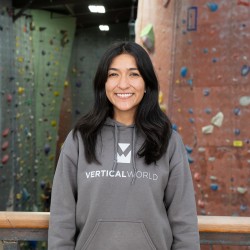 Shantel Garcia Front Desk
1. I've never broken a bone.
2. I'm from California and don't miss the sun.
3. A .75 is a hand crack for me.
4. I get super competitive playing board games.
5. My family has a tequila company in Mexico.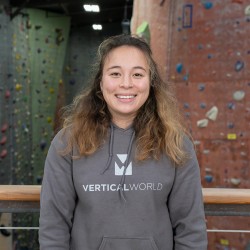 Jade Wahlgren Front Desk
1. Originally from Wisconsin, so ask for cheese recs!
2. Received an undergrad in Archeological studies.
3. Unpopular opinion: I like Nickelback.
4. Sandwiches are my favorite food because they're so versatile.
5. My favorite tree is the Ponderosa Pine.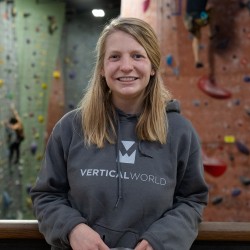 Amelia Tjaden Front Desk
1. I have lived on three continents in four countries.
2. I am currently studying Public Administration at UW.
3. I lost feeling in my big toe from a climbing accident.
4. The town I grew up in had a cereal factory, so it almost always smelled like cookies.
5. Black lives matter.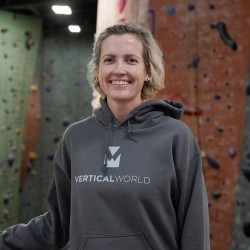 Elise Willis Front Desk
1. Mom of four humans and a cat.
2. I take pictures of people.
3. The best way to learn something is to teach it, and I'm always learning. Currently guitar and everything climbing-related.
4. Coffee and tea snob. I also drink my dad's homemade kombucha.
5. I have a dedicated egg pan no one else is allowed to use.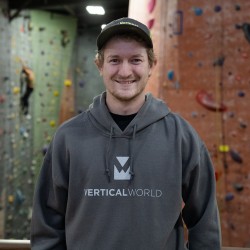 Zephyr Feryok Front Desk
1. I live on a sailboat.
2. Xtratufs are formal wear.
3. My other job is making strange things from metal.
4. I own as many sewing machines as I do motorcycles.
5. I still suck at sewing.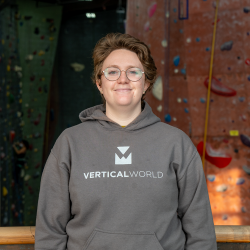 Claire Campbell Front Desk
1. I enjoy printmaking and creating art with dried plants.
2. I have a tattoo of my favorite fish: a pacific spiny lumpsucker (look 'em up they are hilarious)
3. I recently became a nationally certified Wilderness EMT.
4. I am passionate about making outdoor pursuits more accessible.
5. I have a complicated relationship with peanut butter.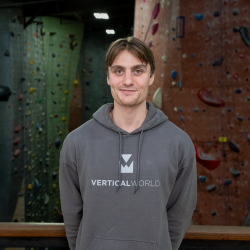 Sam Burgess Front Desk
1. I grew up in the South of England.
2. I have a bachelor's in Computer Science.
3. I enjoy every style of climbing but Trad is my favorite.
4. My favorite piece of climbing gear are my offset nuts.
5. In the summers I guide Kayaking around Seattle.

Franky Jose Front Desk