Routesetting Staff

Alex Aizenman Head Routesetter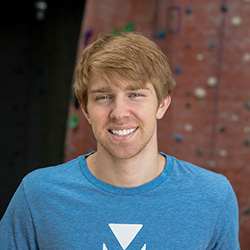 Billy Gierach Routesetter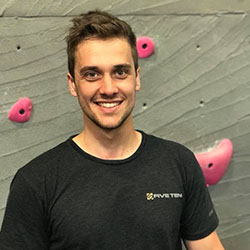 Kyle Van House Routesetter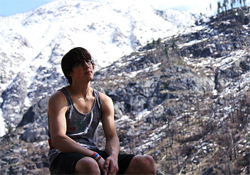 Alex Fritz

# of years setting? About 4
# of comps set for? 20 or so! Including both Youth ABS and SCS Regionals and an SCS Divisionals hosted by your very own VW!
Setting exploits? Working with the best route setting team in the country every day! Also I had the opportunity to be head routesetter for a small competition over in Spokane in 2012 and everything ran super smooth and almost perfect so I was pretty proud of that. Also getting paid to do one of my favorite things in the entire world!
Favorite tape color? White looks good on everything. Except now we color coordinate holds and that means using old mank.
Drill of choice? Dewalt 12V
Ideal setting tool quiver (tools of choice)? A lift! That doesn't fit in the tool quiver… I've loved the mini-Walt that I've been using the last couple years. Ratchet, tap, and wire brushes are always a necessity! Love the big wall harness that Boss Ross gave me and the Metolius daisies/quickfixes. Suppose I should get a Mini-Trax soon for the heavier buckets…
Setting pet peeves? Double taping holds, having just ONE martini bolt in a bucket full of sockets, minimal amount of holds to get you up the wall, and aesthetics. The route or boulder problem definitely has to look good.
Sandbagging or grade coddling? Neither. I definitely have sandbagged a lot of routes before, but I try my best not to. Don't focus on the grade, focus on the climb.
What are your favorite grips? Teknik – Such simple shapes but so much fun to climb on and to set with. Texture is fantastic, too. I think I'm spoiled by being in a newer generation of routesetters and polyurethane holds. E-grips always seems to put out new and original shapes after being in the game for so long. You'll never go wrong with the Pusher Boss or any of the rad ETCH volume holds. Also bubblewraps, bubblewraps, and more bubblewraps.
Who are your setting heroes? The guys I set with every day! Tyson Schoene is definitely my biggest hero in all aspects of climbing: route setting, coaching, being a top athlete, etc. Bret Johnston and Ross Halverson are such a huge reminder every day to always put up something new, something different that you haven't done before. Merg, Josh, and Devo are always a blast to work with as well! I will never be able to emphasize enough about how awesome the crew is at Vertical World. Irreplaceable. Mike Helt and Molly Beard are two of the most experience routesetters in the country and I've grown up through youth competitions climbing their routes at every local event. I loved being able to finish my attempt on a route and run over to talk to them about it. Mike and Luke Bertleson taught my Level 1 USAC Clinic and the two are absolutely amazing. Anyone who has set a route that I've climbed on in a competition has my thanks – you all are the reason I'm doing this today.
What inspires your lines? I grew up in the gym and on competitions so showy movement is definitely something I am always psyched on. But you can't set competition routes in the gym every day. Fun movement and anything that puts you out of your comfort zone to make you think is a good route. Someone once told me that a route that's weird and a route that's hard are two very different things and for some reason I like that a lot. I'd rather climb a route that was something I wasn't necessarily good at and come away from it being a better climber than climbing something that was easy for me mentally but purely physically challenging. I don't know if that influences my routesetting at all but I like to think it does.
What makes you take your routesetting seriously? I take everything I do seriously! Rock climbing is my life. I grew up in the sport and had a community that gave me so much opportunity to do amazing things and now I feel like I'm giving back. Routesetting, coaching, and everything I do in the gym is, in my mind, giving back to the community and using those experiences I've had to help others. My position as a routesetter and coach is huge because I can use both those skills to better the next generation.
Favorite climbing style? I prefer bouldering and sport climbing. My favorite style is pulling you car up to the climb, getting out of the car without hiking, setting your pad or rope down, gearing up and GO! Oh wait…. What do you mean we can't drive our car into the gym? I don't want to go anymore! I particularly like pinches and pockets and am not very fond of crimps, but I know that's the opposite of what most people are strong at, so I try not to use pockets a lot specifically. I like the occasional slightly overhanging power climbs, but I probably would pick delicate-slab movements and hip turns any day!


John Giebelhausen
# of years setting? 10+ years (if you add up the hours, about 3 weeks)
# of comps set for? ½ dozen junior and Summer slam comps
Setting exploits? Putting in enough feet for everyone from 5' – 6'2"
Favorite tape color? neon yellow
Drill of choice? I'm old school. I go for the tendonitis inducing wrenches.
Ideal setting tool quiver (tools of choice)? Drill with 3 bits = screw bit, large Allen and small Allen.
Setting pet peeves? My biggest setting pet peeve is when people don't strip the entire route they are taking down.  My other pet peeve is when someone misses the cool sequence I built into the route.
Sandbagging or grade coddling? I've given up on grading, but have been accused of sandbagging on numerous occasions.
What are your favorite grips? Anything new that I can rescue from the boulder sector.
Who are your setting heroes? Tony Yaniro is my setting hero – he held a class back in the day and stressed using footholds in a way that forced body tension.
What inspires your lines? Whenever I climb a cool line outside, it inspires me to emulate it in the gym.
What makes you take your routesetting seriously? Trying to create something that people will talk about in a positive manner makes me take your route setting seriously.
Favorite climbing style? My favorite climbing style is fluid with cross-throughs and underclings.