Routesetting Staff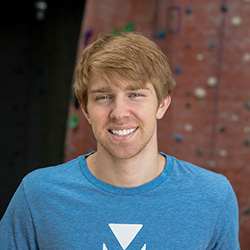 Billy Gierach Routesetter

John Giebelhausen Routesetter
# of years setting? 10+ years (if you add up the hours, about 3 weeks)
# of comps set for? ½ dozen junior and Summer slam comps
Setting exploits? Putting in enough feet for everyone from 5' – 6'2"
Setting pet peeves? My biggest setting pet peeve is when people don't strip the entire route they are taking down.  My other pet peeve is when someone misses the cool sequence I built into the route.
What are your favorite grips? Anything new that I can rescue from the boulder sector.
Who are your setting heroes? Tony Yaniro is my setting hero – he held a class back in the day and stressed using footholds in a way that forced body tension.
What inspires your lines? Whenever I climb a cool line outside, it inspires me to emulate it in the gym.
Favorite climbing style? My favorite climbing style is fluid with cross-throughs and underclings.
Anna Cohen Routesetter
David Sumada Routesetter
Bob Clarke Routesetter
Ryan Webster Routesetter