New to Climbing?
If I've never climbed before, can I just drop in and start climbing on my own?
With the exception of the waiver form, there is no restriction for you to just come in and climb. Vertical World offers all styles of climbing: bouldering, top roping, and lead. Anyone can drop in and boulder, but in order to top rope or lead, you or someone in your party, must have previous experience to become certified.
We are open Monday through Friday 6am – 11pm and 8am – 8pm on the weekends.
Day passes are $20 for adults (14+) and $16 for youths. We also offer memberships and punch passes.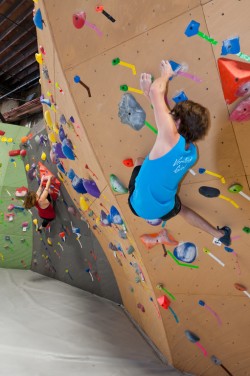 What is bouldering?
Bouldering is a style of rock climbing undertaken without a rope and normally limited to very short climbs over a crash pad so that a fall will not result in serious injury. Bouldering emphasizes power, strength, and dynamics. Its focus is on individual moves or short sequences of moves, unlike roped climbing, which generally demands more endurance over longer routes where the difficulty of individual moves is not as great. Boulder routes are commonly referred to as problems (a British appellation) because the nature of the climb is often short, curious, and much like problem solving.
What is "belaying"?
In order to top rope, you or someone in your party must pass a belay test. Belaying is the act of managing a rope to protect a climber. The "belayer" is there to control the slack in the safety system, catch a climber if they fall, and lower them down when they're finished climbing. It's a crucial skill, and one of the first skills we teach in our "Intro to Climbing" class.
I don't have anybody to belay for me today. Can a Vertical World staff member belay for me or my child?
Vertical World has staff available to belay with advance notice with our "Rock Climbing Experience".

Call the gym to schedule or book online:
(206) 283-4497